I would very much like to travel. However, no longer physically, I can still travel vicariously, even through time, while learning from others' experiences. Perhaps I may share some of my vicarious experiences.
Please allow me to introduce you to Bruce Olsen, Missionary. ~G.W.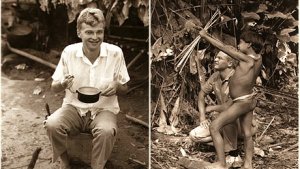 After venturing into the isolated Andes mountains of Colombia to reach the unreached Motilone tribe for Jesus, 19-year-old Bruce Olson was ambushed and shot in the leg with an arrow in 1961. His Yukpa guide fled as six warriors moved in and captured him, forcing him to stand and walk six miles to their tribal hut.
The Motilone indigenous peoples (they call themselves Bari) were feared by all outsiders because they killed anyone and everyone who made contact with them. Bruce says that such hostility stemmed from their fear that outsiders were cannibals, according his interview on the Strang Report podcast.
Read the rest: Bruce Olson, Bruchko
Legendary American missionary ate maggots, wore a flea collar to surviveGod Reports